Disaster News Network:a state of emergency for the reservation.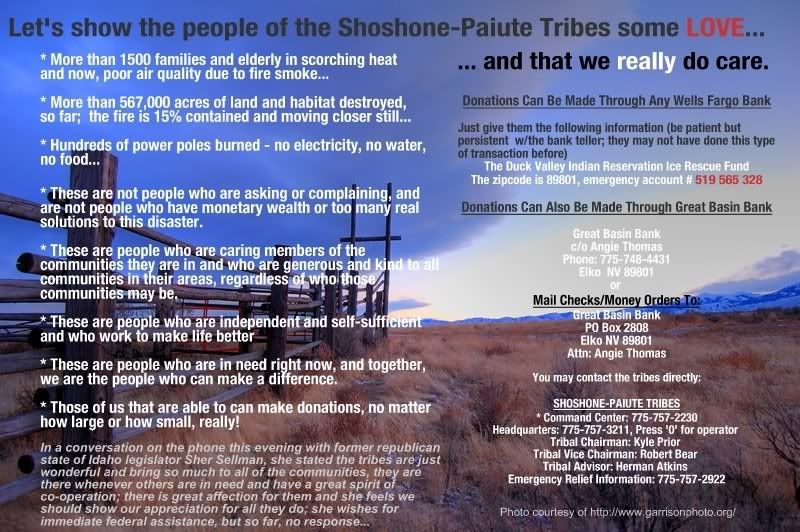 Disaster News Network: Dozens of wildfires still burning in West

Dozens of wildfires still burning in West



Forecast of "dry" thunderstorms could spark new blazes.

BY P.J. HELLER | BOISE, Idaho | July 25, 2007



Printer Friendly
Email Article











Firefighters battle the 8,200-acre Cascade Complex fire in Idaho.
Credit: Dave Grider







Firefighters head toward fire lines at Monument Complex fire in Oregon.
Credit: Robert "Robo" Robustelli


Higher humidity and some rain Tuesday helped firefighters in the battle with a massive wildfire burning in Idaho and Nevada, one of dozens of large fires still burning across the West. Forecasters warned that scattered dry thunderstorms could move into the region Wednesday afternoon which could spark additional fires.





As firefighters made progress on the nearly 600,000-acre Murphy Complex wildfire, the last of the evacuation orders was lifted Tuesday for the small town of Jarbidge, Nev. The most active part of the fire was in Nevada, where five other fires were burning. At the Idaho-Nevada border, the Duck Valley Indian Reservation remained without power for another day after the fire burned utility poles last week. The Shoshone-Paiute Tribe declared a state of emergency for the reservation.


More firefighters – now totaling about 730 - were brought in to battle the blaze which was 20 percent contained. Officials said they expected full containment Aug. 4.


Nationwide, 42 large wildfires were reported burning in 11 states on Tuesday covering nearly 1.5 million acres, the National Interagency Fire Center reported. In the West, fires were burning in California, Utah, Montana, Oregon, South Dakota, Washington and Wyoming. The Murphy Complex fire was one of 14 blazes in Idaho that have scorched more than 840,000 acres in that state.