Floyd Westerman
Indigenous in the News Featured Artist Review
- A Tribute to Johnny Cash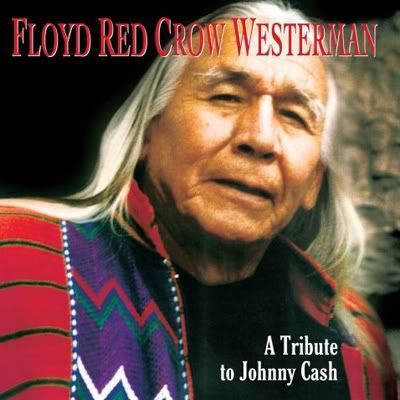 I am reminded of choirs that maybe don't look like much. A rag tag potpourri of unkept promises and unrealized dreams until they sing. And they sing like nothing I've ever heard before. I weep. I am so moved by all of it that I weep as the singers weep and sing like angels weep when the spring rains have come and everything is new again. That's what Uncle Floyd is doing for us here. It is immense and amazing. A tear wells up in the corner of my eye as I listen to it song by song.
Something that I don't have much call to talk about is vocal range but I have that opportunity now because there is very little for a baritone and there aren't any baritones quite like Johnny Cash and Floyd Westerman. This is a fantastic CD to add to your collection of Floyd's stuff and a real high point in a career that is an honor song to the joy of music.
To start, I love the intro to Ring Of Fire. This is some very nice work. A lot of care went into the crafting of this song. This trac is followed by the truthful grief of Sunday Mornin' Comin' Down. Through the squeezebox, I feel the pain. The only way to sing this song and mean it is to have lived it. Yeah.
After the absolutely gritty tough luck story of Give My Love To Rose he moves into the even tougher luck story of San Quentin. In this song, as well as the country rock Folsom Prison Blues, Johnny Cash, inspired by his own prison term, gets down and dirty for real. These songs more than any other elevate Johnny to Living Legend status and Floyd does wonderfully respectful renditions of both of them.
In the incredibly romantic and beautiful crying in your beer song, I Still Miss Some One, Floyd sings like he has a tender spot in his heart for these feelings.
Floyd ends A Tribute with the song Drums, a song from a Native American's point of view. Johnny Cash's commitment to Native causes is reflected powerfully in Floyd's rendition of the song. This is a very meaningful cut on the CD. Here is an opportunity for white people to hear an alternative view of this reality in a song that carries Floyd's stamp of authenticity.
In a strict sense, Floyd "Red Crow" Westerman is a troubadour. He carries his Tennessee Flat Box Top with him wherever he goes and Floyd is nothing if not well traveled.
Kris Kristofferson says, "I Think Johnny Cash would be especially proud of this tribute album. Not just because of his high regard for Floyd Red Crow Westerman or his own life-long identification with Native Americans and commitment to their cause, but because it is such a respectful, loving portrayal of the man's work. Floyd's deep, powerful voice resonates with the truth. I had no idea he could sound so much like John…"
This is significant because if you know Floyd, you know that he as musician, activist, and actor has been given the opportunity to hang with the heavies. You can tell he loves Johnny Cash and his work. He exhibits the exuberance of his passion for Johnny Cash whenever he sings one of his songs and this CD is no different.
The instrumentalists an A Tribute are top-notch and they obviously have the same regard for the material as Floyd. There isn't a blemish on this cd. This isn't just A Tribute to Johnny Cash but it is also, a significant declaration of someone's collective experience that also just happens to be a brother of mine. I get a warm glow in my heart every time I listen to this CD. Thank-you, my brother.
Reporter
Jamison Mahto
jamison@iicoc.com
www.iicoc.com

If you would like to republish this article, please feel free to.