SAN FRANCISCO, CA -- On February 11, 2008, the
Longest Walk 2 will begin on Alcatraz Island to commemorate
the 30th anniversary of the historic Longest Walk of
1978 that resulted in historic changes for Native
America,. Participants will embark on a five-month
journey across America to Washington, D.C. arriving on July
11, 2008 to raise national awareness about issues
impacting our world environment, to protect Sacred Sites
and to clean up Mother Earth.

The Longest Walk 2 is an extraordinary grassroots
effort on a national level to bring attention to the
environmental disharmony of Mother Earth. The Longest
Walk 2 intends to create educational awareness about the
health and well-being of Our Mother Earth, the health
and well-being of our people and communities and the
protection and preservation of Sacred Sites.

The original Longest Walk of 1978 was conducted in
response to proposed legislation in Congress that would
have abrogated Native Treaties that protected our
Native American sovereignty. It defeated those 11 bills
and in the following month, the American Indian
Religious Freedom Act (AIRFA) of 1978 was passed. As a result
of The 1978 Longest Walk, Indigenous people were
granted the federal legislative right to freedom of
religion, a fundamental right guaranteed to all Americans
under the U.S. Constitution.

"In 1978, our communities faced many hardships such
as non-existing religious rights and criminalization
of our people who fought for cultural survival, this is
why the Longest Walk was necessary. As Indigenous
Peoples in the United States, our environment and our
cultural survival are directly correlated and are still
imperiled today. This is why we must walk once again,"
states Jimbo Simmons of the International Indian
Treaty Council.

The message from the Longest Walk of 1978 will be
carried and continued: "The Longest Walk is an Indian
spiritual walk, a historical walk; and it is a walk for
educational awareness to the American and the world
communities about the concerns of American Indian
people." American Indian Movement Co-founder Dennis J. Banks
states, "From Alcatraz Island to Washington, D.C.,
through the elements of the seasons, we shall walk;
nothing shall deter us from completing our mission: All
Life is Sacred, Protect Mother Earth."

The Longest Walk 2 will take two routes. The
Northern route will travel the original route of 1978 across
11 states and 3,600 miles. The Southern route will
follow the 2006 Sacred Run route across 13 states and
4,400 miles. Both routes will visit Sacred Sites across
the Nation and promote educational awareness for Sacred
Sites protection and preservation. The Southern route
will be launching The Clean Up Mother Earth Campaign
where Longest Walk participants will work together to
clean up our country's highways and roads by
collecting debris found along the Longest Walk route.

Longest Walk 2 is part of many communities ongoing
commitment to protect sacred sites, cultural
preservation, and to create awareness about the environment. We
are walking to promote positive change in our world.
The Longest Walk 2 invites veteran walkers that
participated in the 1978 Longest Walk to join us and reach
out to the new generations of the future.

For more information please visit:
www.longestwalk.org
From:
Mary-Ann (flutelady)
Date: Feb 8, 2008 10:46 PM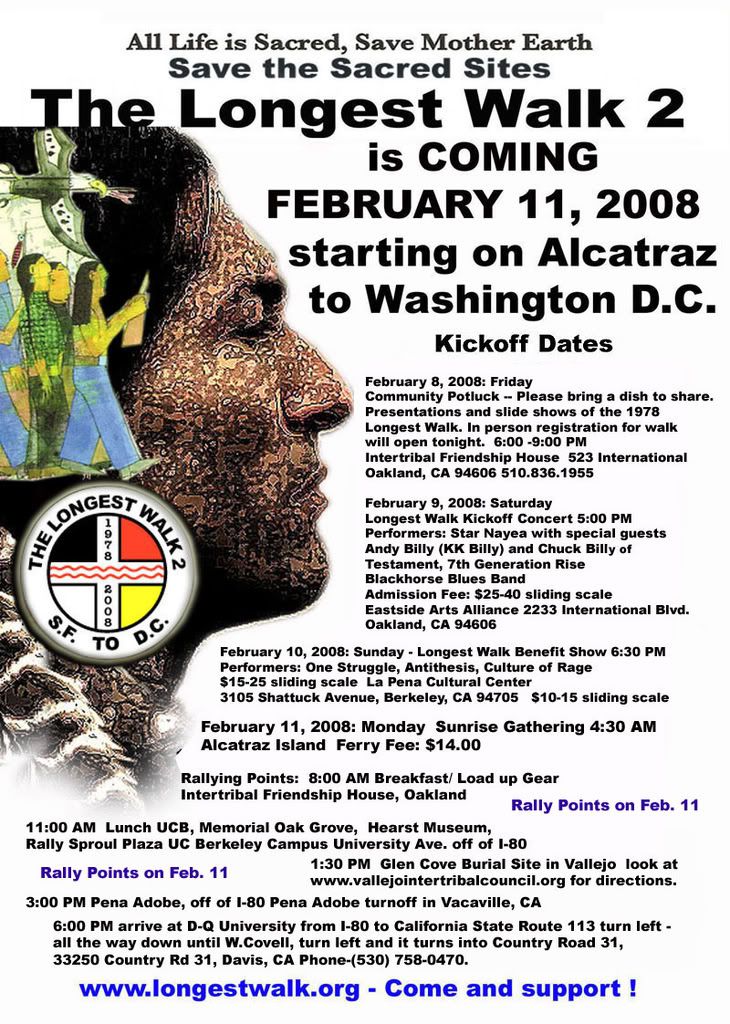 South Route Itinerary
Updated February 2, 2008

Please note that this itinerary is not set in stone. Given the nature of walking we may end up being a day or two off from this schedule. So if you are planning on joining the walk en route at one of these stops please plan with a three day window before and after the date given for the location. As we get going we will be updating this page regularly with the most current information.

CALIFORNIA Southern ROUTE ITINERARY
Day Date Location - Day Start Location - Day Finish Hwy
11-Feb Alcatraz DQU TBA
1 12-Feb DQU/Rumsey Rio Vista TBA
2 13-Feb Rio Vista Lodi TBA
3 14-Feb Lodi Manteca TBA
4 15-Feb Manteca Modesto TBA
5 16-Feb Modesto Merced TBA
6 17-Feb Rest Day
7 18-Feb Merced Chowchilla TBA
8 19-Feb Chowchilla Madera TBA
9 20-Feb Madera Fresno TBA
10 21-Feb Fresno Camden TBA
11 22-Feb Camden Lemoore TBA
12 23-Feb Rest Day
13 24-Feb Lemoore Corcoran/Delano TBA
14 25-Feb Delano Wasco TBA
15 26-Feb Wasco Oildale/Baker TBA
16 27-Feb Oildale/Baker Edison TBA
17 28-Feb Edison Keene TBA
18 29-Feb Rest Day
19 1-Mar Keene Tehachapi TBA
20 2-Mar Tehachapi Rosamund TBA
21 3-Mar Rosamund Apple Valley TBA
22 4-Mar Apple Valley Lucerne Valley TBA
23 5-Mar Rest Day
24 6-Mar Lucerne Valley Yucca Valley TBA
25 7-Mar Yucca Valley Joshua Tree TBA
26 8-Mar Joshua Tree 29 Palms TBA
27 9-Mar Rest Day
28 10-Mar 29 Palms TBA
29 11-Mar TBA TBA
30 12-Mar TBA TBA
31 13-Mar TBA TBA
32 14-Mar TBA TBA
33 15-Mar TBA Needles TBA

North Route Itinerary
The Longest Walk 2008 ---North Route (1978 Route)
California
Feb. 12
12PM Northern Route Walkers Leave State Capitol
Feb. 13
Folsom to Shingle Springs Rancheria-----Hwy 50
Feb. 14
Shingle Springs Rancheria to Pollock Pines----- Hwy 50
Feb. 15
Pollock Pines to Kyburz ------ Hwy 50
Feb. 16
Kyburz to South Lake Tahoe ------ Hwy 50

Longest Walk Needed Items
If you would like to donate any of these items please fill out a sponsor form and explain which items you would like to donate and we will contact you! If you have any questions please Contact Us. Donations are tax-deductible.

Camping Gear and Travel Necessities:

Financial donations to purchase supplies, vehicles, kitchen needs, ect.
The use of vans and/or trucks to assist in transporting gear, walkers and the elderly.
Drivers to shuttle walkers occasionally when needed.
Non-Perishable Food Items and grocery store gift cards.
Energy bars such as Tanka Bars.
Canvas Teepees
Large Canvas Tents and Tarps
Backpack/Duffel bags to be carried by support vehicles
Daypack –for water and snacks through the day
Sleeping Bags (0) degrees preferably
Insolite Pads for elders
Tarp or 3 Season Tent
1-Quart Water Bottles
Safety Vests (preferably orange or green)
Flashlights and extra batteries
Plastic Garbage Bags
Big plastic containers for food and supplies
Bungee cords
Propane
Firewood and Tarps for DQ Sweat Grounds

Clothing: (We ask that donations of clothes be in new or good condition)

Warm insulated Jackets (preferably snow/waterproof)
Long Sleeved Wool or Fleece Shirts.
Wool or Fleece Sweater
Wool Gloves or Mittens with Nylon Shell
Warm Shell (Jacket) to block wind and rain
Rain Pants
Thermal Underwear pants and shirts (Long Johns)
Wool Socks, warm socks and walking socks.
Liner Socks (thinner socks to go inside wool socks)

Rain Gear

Umbrellas
Rain Ponchos
Tarps
Waterproof Tents
Waterproof Shoes and Boots
Rain Jackets and Pants.

Snow Gear (For Northern route)

Snow Jackets
Snow Suits
gloves
Snow Boots.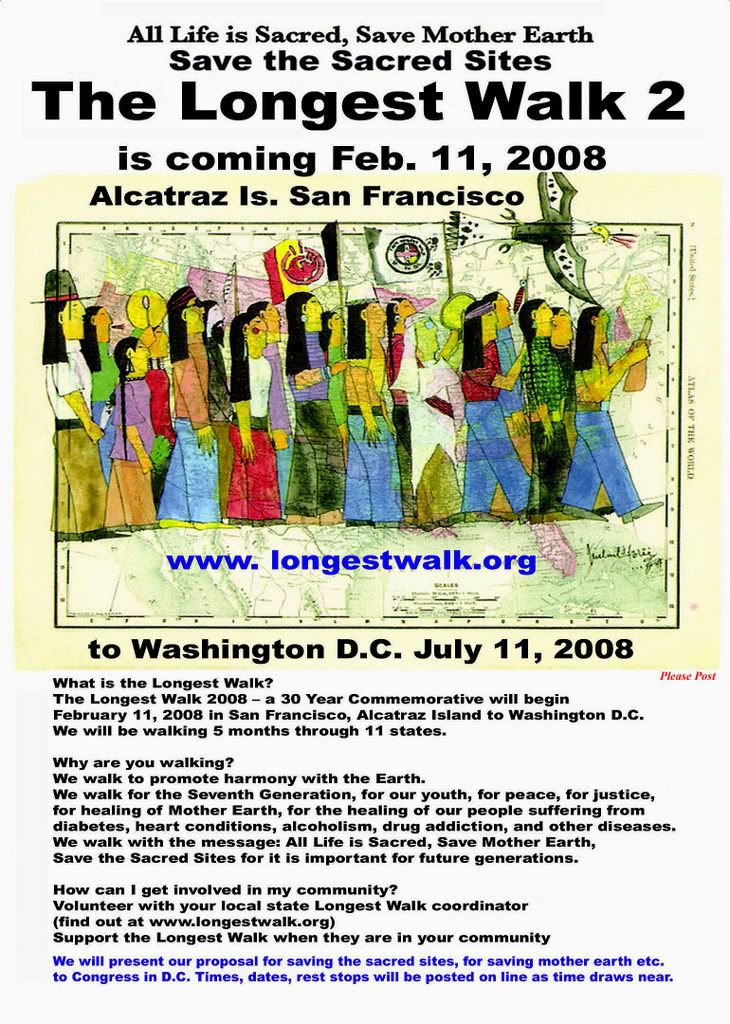 contacts: Intertribal Friendship House, Oakland (meetings of the Longest Walk) 510-836-1955. Ask how you can help.
Nathan 415-577-1498- One of the Southern route walkers that is going all the way. Ask how you can help him and the ones that join him. Repost please my sisters and brothers, thank you
PEACE and BLESSINGS to you all, always love,
Mary-Ann